Browse:
Home
/
Case Studies
Case Studies
an in-depth look at clients' projects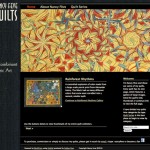 By Cotier on 22 April 2010
Even though their resources are limited, individual craftsmen, consultants and service providers share the same requirements as any business. An entrepreneur's most abundant resource is sweat equity. Still, there are only so many hours in the day and only so many skills one can master. Eventually there always comes a point when either extra hands or expertise has to be procured. Over the years individuals would barter with me for essential branding elements. Anything more was beyond their means. Interestingly, these clients generally are the recipients of some of my best work. I believe it is the combination of their passion giving them the ability to clearly articulate their business with their trusting me to define it for them.
Posted in Case Studies | Tagged Branding, Dynamic Web Site, FaceBook, Feve Quilts, Photo Galleries, WordPress
By Cotier on 5 January 2010
Annual Conference of Three One-Day Sessions
Created a consistently branded theme for each of the three sessions within the constraints of the existing branding of the 14-year-old event by keeping the same color palette. The design needed to reflect the new administration, although when we started it was a month before the election.
Posted in Case Studies | Tagged Branding, Event, GE Media Group, Print, Web